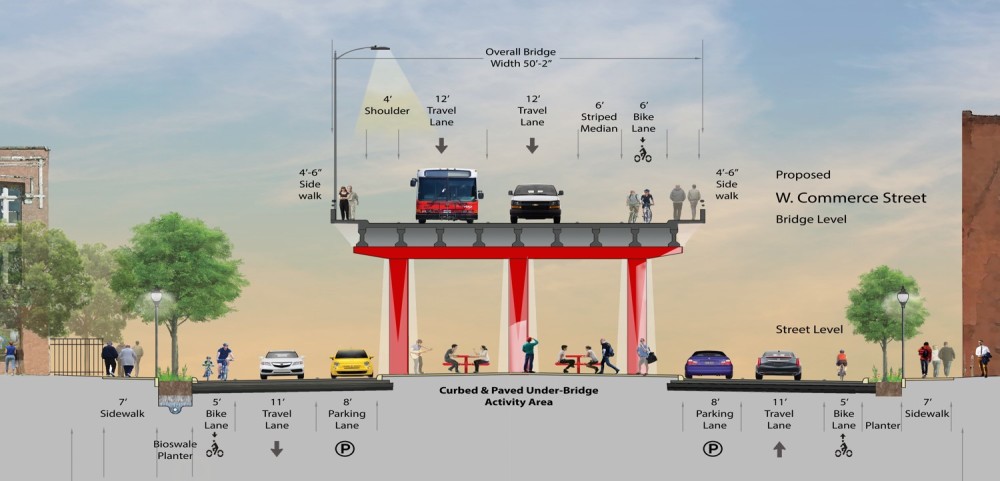 West Commerce Street (Frio Street to Colorado Street)
West Commerce Overpass Bridge – CLOSURE POSTPONED
The West Commerce Overpass Bridge Closure has been postponed, and has been rescheduled for Monday, May 15, 2023 thru Monday, June 12, 2023
West Commerce Overpass Bridge – Repairs and Closure Update
The West Commerce Overpass Bridge will begin construction repairs on Monday, May 8, 2023 with one lane opened to traffic on the bridge. A full bridge closure will start as early as Monday, May 15, 2023 thru Monday, June 12, 2023. Construction crews will be making repairs to the bridge. To facilitate traffic the westbound service road will be opened to all traffic. Electronic message boards will be onsite highlighting the closure dates. Please see the detour map provided. Due to weather or unforeseen occurrences, the closure may be extended. No on-street parking is allowed on the W. Commerce access roads from Comal to Salado for bridge safety reasons, and access requirements.
Project Notes
Contractor (Harper Brothers Construction) continues reconstruction work on W. Commerce (Colorado to Frio), which requires varying lane closures. On W. Commerce (Alazan Creek to Colorado) one lane will remain open at all times. Current and planned work includes: West Commerce bridge repairs, storm drain work, miscellaneous asphalt repairs, roadway/bike lane striping and markings, electric service work at the Colorado intersection, landscaping, and final signage to be installed.
This work is associated with the West Commerce (Frio Street to Colorado Street), a $10M 2017 Bond Project. To facilitate traffic there will be detour signage available to direct motorists to alternate streets. Businesses and residents will have sidewalk, parking lot and driveway accessibility. Access is provided to local traffic as needed. Public Works will continue to communicate any changes as the project progresses. Project construction began January 2021 and is anticipated to be substantially complete by June 2023.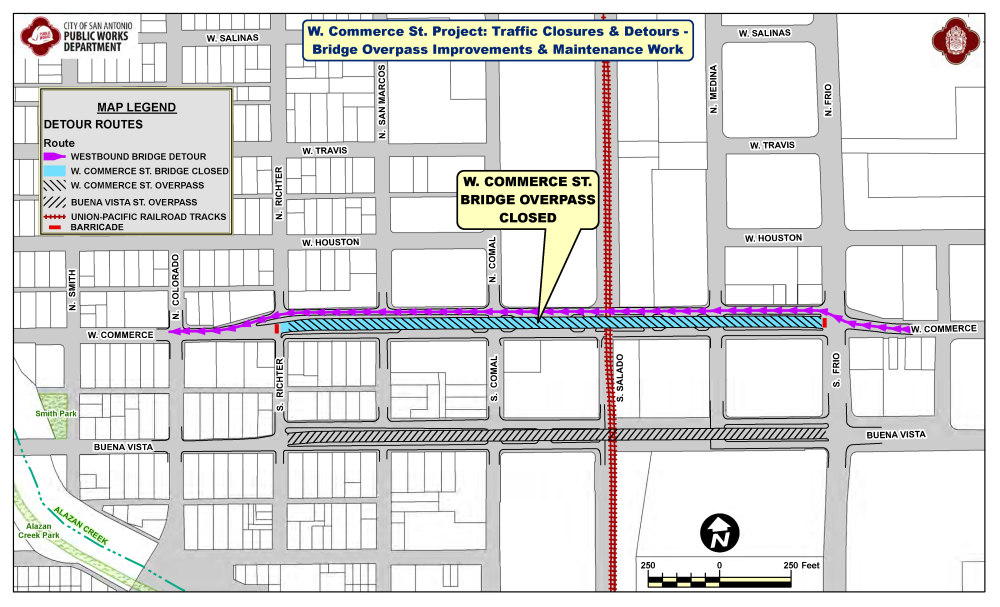 Detour Map
For project information contact:
Joey Doctor | Capital Projects Officer | Design & Construction
210.207.8415 | [email protected]