Department of Arts & Culture: Zona Cultural Sculptures Public Art Opportunity
The City of San Antonio's Department of Arts & Culture has identified the heart of Zona Cultural as an opportunity for a public art project. The project has three locations near the Commerce and Santa Rosa intersection. You can view the locations identified by the red dots in the map below. One is at the north median on Santa Rosa and Commerce. The other two locations are about 100 feet east of that intersection on Commerce Street. All three present opportunities for three-dimensional art, such as sculptures. Currently in the beginning stages of the public art process, we need your input on what theme you'd like to see explored in the artwork's design.
Zona Cultural encompasses 44 contiguous blocks of many historic locations, including Main Plaza, Plaza de Armas, Market Square, Alameda Theater, San Fernando Cathedral, San Pedro Creek. A crossroads of culture, commerce, and community; this area celebrates the story of San Antonio—from presidio to bustling global city—through music, food, culture, and the arts.
El Departamento de Arte y Cultura de la Ciudad de San Antonio ha identificado el corazón de Zona Cultural como un lugar donde es posible hacer un proyecto de Art Público. El proyecto incluye tres esculturas que serán instaladas cerca de la intersección de las calles Commerce y Santa Rosa. Los círculos rojos en el mapa indican dónde se instalarán estas esculturas. Una será instalada en el camellón en la intersección de Santa Rosa y Commerce. Las otras dos estarán aproximadamente 100 pies al este de esta intersección en la calle Commerce. Estas tres oportunidades presentan la oportunidad de hacer un proyecto tridimensional, como lo son las esculturas. Ahora nos encontramos en el inicio de este proyecto y necesitamos su opinión sobre qué tema le gustaría ver representado en el diseño del arte.
El área denominada como Zona Cultural abarca 44 cuadras continuas con muchos lugares históricos, incluyendo La Plaza Principal de San Antonio, Plaza de Armas, Plaza del Mercado, Teatro Alameda, Catedral de San Fernando, y Arroyo San Pedro. Zona Cultural cuenta con una mezcla de cultura, comercio y comunidad; esta área celebra la historia de San Antonio, desde la época del presidio hasta la bulliciosa ciudad global que es hoy, a través de la música, la comida, la cultura y las artes.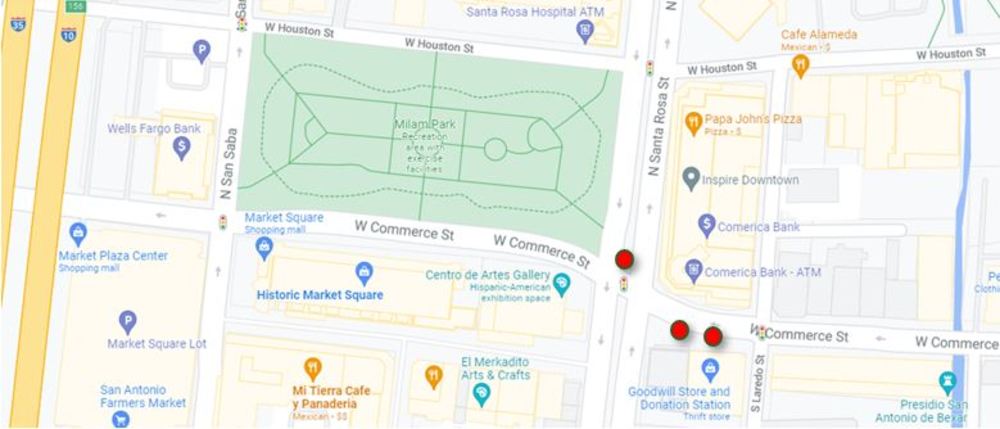 Point of Contact: Bianca Alvarez, Public Art Project Manager
Email: [email protected]
Zona Cultural Sculptures Public Art Survey | Esculturas en Zona Cultural Arte Publico
Please fill out the questions below to share your input on what themes you would like to see explored in the artwork's design.
Por favor, complete las siguientes preguntas para compartir su opinión sobre los temas que le gustaría ver reflejados en el diseño de la obra de arte.
City of San Antonio Survey
City of San Antonio Survey
City of San Antonio Survey
City of San Antonio Survey
City of San Antonio Survey
Optional Questions: The next set of questions will help us improve our outreach efforts across the City | Preguntas opcionales: El siguiente grupo de preguntas nos ayudará a mejorar nuestros esfuerzos de divulgación en toda la ciudad.
City of San Antonio Survey
City of San Antonio Survey
City of San Antonio Survey
City of San Antonio Survey
City of San Antonio Survey
City of San Antonio Survey
City of San Antonio Survey
City of San Antonio Survey
City of San Antonio Survey